Faced with increased competition, increased costs, increasingly advanced equipment, and continuous improvement in maintenance levels, and many other pressures to ensure that machinery and equipment operate with peak performance in a stable and reliable manner, will help manufacturers effectively increase productivity and enhance competition. To achieve this goal, "small investment, large returns" of high-performance lubricants and good lubrication work are two key factors. As the world's leading lubrication expert, Exxon Mobil is not only good at developing and manufacturing high-quality lubricants, but also good at implementing optimized lubrication support work to help the company's equipment reach and maintain peak performance status. Among the comprehensive lubrication solutions offered by Exxon Mobil, PES® (Planed Engineering Service), a Mobil Planning engineering service dedicated to helping companies maximize the value of lubricants and machinery, is particularly interesting.

Mobil Plan Engineering Services (PES®) is an engineering service system that aims to increase productivity and maximize the potential of equipment. After years of research and practice, the Mobility Program Engineering Services (PES®) has evolved into a sophisticated method system that can create value for companies through multiple pathways: extending equipment life; reducing unplanned downtime; extending oil changes Cycle; Reduce waste lubricants; Reduce equipment energy consumption.

The Mobil Plan Engineering Services (PES®) is an effective way to achieve scientific lubrication of equipment. In general, the Mobil PES® service covers what oil is used, how it is used, where it is used, and how it is processed and stored before and after use. However, these seemingly simple services are not available to all lubricant companies.

First, tailor-made suggestions for improvement. The first element of Mobil PES® is "tailor-made." Every industry, every factory, and each machine and equipment has its own unique situation. Only with extensive and in-depth lubrication technology and knowledge can we provide truly practical lubrication recommendations to the company.

Since 1914, the Mobil Industrial Lubricant team has begun close cooperation with the world's leading equipment manufacturers. Therefore, Meifu has a deep understanding and knowledge of equipment development trends, future lubrication requirements, lubrication system design, and various actual field lubrication issues. In addition to ExxonMobil's more than one hundred years of experience in the field of industrial lubricants and shared platforms all over the world, today, Mobil Field Engineering Services team is not only confident but also capable of facing and dealing with the complex lubrication issues, Mobil engineers also Can effectively implement relevant analysis plans and lubrication operations.

Second, a complete and sustainable operation process. Mobil PES® is not a piece of paper, it can effectively guide and escort the company to step by step toward the goal of productivity taking off, at each node to help companies look at the status quo, see the future, and rely on real data to confirm the original set of goals.

Step 1, make plans, and make clear goals: The engineering service team of Meifu Industrial Lubricants will conduct a factory survey together with the company's representatives on the site to advise on how to improve the lubrication of the equipment; then evaluate the lubrication improvement suggestions and determine the service items in order. ; Then clarify the responsible parties of both parties; finally develop a concrete action plan.

Step 2. Work hard to achieve the goal: Mobil's team will jointly review the execution of the plan with the management of the company during the specific implementation process; maintain close contact with the company, provide progress reports on a regular basis, and follow the opinions of the company on the next step. Work to make adjustments or improvements.

Step 3, Writing a Benefits Document: Only with reliable data can project results be evaluated. Mobility regularly provides data to monitor the additional benefits of PES® services, which include: reducing unplanned downtime, reducing energy consumption, reducing the replacement rate of machine parts, reducing labor costs, reducing acquisition costs, and reducing lubrication consumption And waste oil, improve product qualification rate and more effective equipment maintenance.

Step 4: Annual Review: The Mei Foo and the company will sum up the results achieved within one year and compare them with the targets set at the beginning of the year; specifically sum up how much benefit is achieved and improve the degree of equipment lubrication; confirm relevant data and obtain approval from corporate customers; Finally submit a comprehensive summary report.

The same service can be carried out every year. With the continuous renewal of lubrication technology and products, Mobil PES® will also continue to deepen into all aspects of corporate lubrication, fully exploit the potential of excavator equipment, and upgrade the productivity of equipment to a new level. Lubrication is a technology-intensive job and the foundation of many industries. To achieve comprehensive lubrication, perfect professional technical services are indispensable. Only with the support of specialized technical services such as PES® from Mobil Engineering Services, can high-quality lubricants really work; companies can truly unleash the potential of their equipment and achieve rapid growth in productivity.

FURD produce 500kg hydraulic Walk Behind Roller, 325kg single drum Soil Compactor , 285kg single drum Compaction Roller, and 200kg single drum Vibration Roller.

500kg walk behind roller with hydraulic controlled walking, hydraulic turning. Its compact design makes it perfect in the jobs on curbs and sides and in confined areas.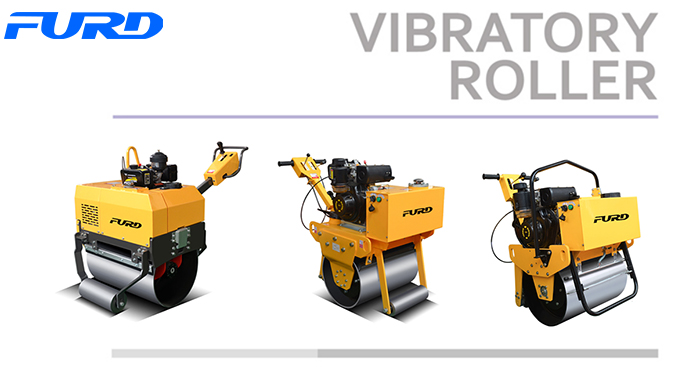 FURD single drum roller features:

-Light weight, easy to operate;

-Full hydraulic transmission, infinitely variable speed;

-Hydraulic motor driving;




Walk-behind Single Drum Roller

Walk-Behind Single Drum Roller,Single Drum Road Roller,Steel Drum Roller,Vibration Roller

Jining Furuide Machinery Manufacturing Co., Ltd. , http://www.furdroller.com