Swedish engineer Atlas Copco invests in new technology assembly vehicles, and believes that strong adhesives and new rivets can be seen in the rapidly increasing demand of car manufacturers trying to reduce the weight of vehicles in order to achieve emission reduction targets.
After buying its SCA, a manufacturer of adhesive glue gear in 2011, Atlas Copco snapped up a professional self-piercing riveting firm of Henrob Company last month, adding one or more sheets of material together. Atlas Copco's head of industrial technology business told reporters that he is looking for more acquisitions to add new technologies. He said, "These technologies are attractive and powerful enough that we can consider adding to our product portfolio."
Atlas Copco's interest in new assembly technologies has prompted a trend for automakers to use more aluminum to reduce vehicle weight. Aluminum can be difficult to weld and car manufacturers are turning to alternatives, including strong adhesives and self-piercing rivets. According to a study conducted last year by the consultant companies Daktronics Global and the European Aluminum Association, each car in Europe between 1990 and 2012 almost doubled the amount of aluminum from 50 kg to 140 kg.

our dished heads are used in a variety of applications and industries such as storage tanks, pressure vessels, road tank, food processing operations, chemical plants ,Nuclear operation, Oil Refining, Architectural feature, power generation.

Due to our forming experience and equipment, we can spin or press the first part of the process of forming your products, It depend on the thickness and material performance,

Our main products are 2:1 SE dished heads, Torispherical heads, Cones,Hemispherical Heads etc

Choosing the right type is the key decision for each customer and one for which our experience team to happy to give advice, simple speaking, the torispherical heads, the less ressure it can withstand, Conversely, the deeper dished heads, for example Elliptical heads, hemispherical, the greater pressure it can take.

Our in house-capability to form dished heads by cold press brings major benefits to our customers and sets us apart from others dished heads manufactures

For carbon steel dished heads, we can forming this dished heads from 76-9000mm in diameter and below 250mm in thickness

The general forming process as the below sketches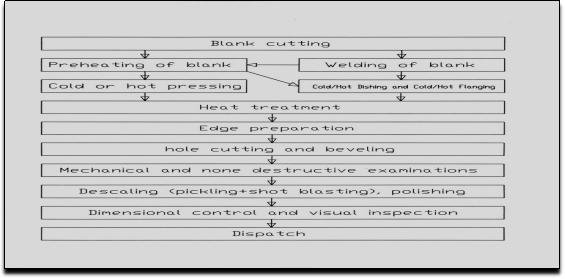 Technical Delivery Condition
1,Our material (hot Rolled Unalloyed structural steel, high and low temperature steel, High Alloy steel)
We have no carbon steel plates in our stock and most of plates are from Chinese steel market or mill. Meanwhile As Japanese owed company, We can also source the plates from Japanese ex-mill if end user can`t accept ex-chinese mill.
Basically the delivery time shall be below 20days for dished heads if plates are from steel market. and Max plates width from them is below 2200mm. it means that the seamless dished heads diameter shall be below about 1800mm.
The max width CS plates that Chinese mill can do is below 4700mm,and dished heads can be seamless below 3800mm in diameter.




2,Enquiry/order required information

We can give our clients once they gave us the below information

But if clients tolerance is higher than below Hokkai standards, it shall be provided to Hokkai prior to offer or ordering.



Carbon Steel Elliptical Head,Carbon Material Dish Head,Carbon Steel Elliptical Dish Head,Carbon Steel Ellipsoidal

YIXING HOKKAI HEAD PLATE CO.,LTD , http://www.hokkaidishedend.com